As a video production company, one of the most common enquiries we get is something along the lines of "We want some videos made but don't really know what kind of videos."
Understandably, many business owners either don't know what type of videos they are looking for, or have ideas for videos that are not the most effective for achieving their goals. So I've decided to compile the top three most common and effective types of videos for (almost) all businesses. The first two are for improving conversion, while the last one is for improving brand awareness.
Why Video
Before delving into the best types of videos, it's important to establish why video is a necessity for any business trying to stay competitive in 2023.
Video is the highest-converting form of media, ever. Before humans invented language, we relied on nonverbal communication tools such as gestures, body language and facial expressions, and this habit has stuck with us to this day. This is why video is the only medium that can so closely mimic true human communication, it allows for a personal connection with the audience that is hard to replicate through text or images alone.
Viewers retain 95% of a message when they watch it on video, compared to 10% when reading it in a text. And if you're still not convinced, here are some more video-related stats:
… you get the idea.
With that being said, let's get to our top three most common and effective types of videos for businesses.
---
1) Brand Message Videos
Brand message videos typically consist of the business owner speaking directly to the viewer (into the camera lens) about what they do or what they sell. This is then intercut with relevant footage of the product/service in action. These videos are typically just under 2 minutes long.
By putting a face to the brand and showcasing what the business sells in action, the video is able to achieve two main goals:
Increase trust
Help the prospect imagine themselves using the product/service
When these visual elements are combined with the script, which typically highlights the viewer's pain points and further helps them imagine the product/service solving their problems, this video becomes a conversion machine.
Brand message videos are the most versatile type of video because it gives the viewer a snapshot of everything they need to know about your product/service in an engaging format.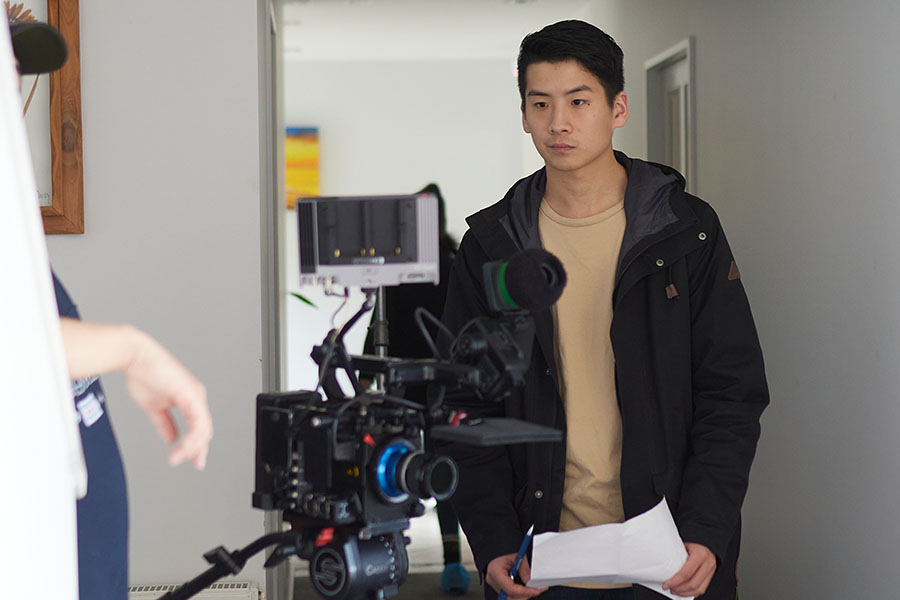 2) Testimonial Videos
Alongside brand message videos, testimonial videos are also a type of video that we would almost always recommend to our clients.
Testimonial videos are just that, a testimonial in video form. These are interview-style videos where your client/customer is interviewed on camera about their positive experience with your brand. We then take their best answers and seamlessly cut them together into a testimonial video.
The length of these videos can vary based on what the business sells. Essentially, the more research the viewer is likely to do before buying, the longer the video should be (to a reasonable degree). For example, a one-minute long testimonial video may be a good length for a company that sells hot tubs. But a custom home builder may benefit more from a five-minute long testimonial video.
The main goal these videos achieve is also to increase trust. As we have established, video can connect with the audience on a much more personal level than text. If your competitors are only using text testimonials, this is a no-brainer to stand out and potentially gain market share.
One is of course better than none, but we typically recommend at least two or three testimonial videos to imply that different people all have the same great experience with your brand.
3) Short-Form Content Videos
Unlike the other two types of videos, short-form content videos are not designed to primarily live on your website. As the name suggests, these videos are designed for content marketing, they are especially effective for increasing brand awareness.
First, let's define what short-form content videos are. We define it as 15-30 second vertical videos designed for social media.
For the first time in the history of social media, all major platforms are favouring the same format: vertically shot videos that are short and engaging. Why? Because all the tech giants see the success TikTok has and are all trying to compete.
The result of that competition is that business owners like you and I can leverage this by posting each video we make to all four platforms (TikTok, Instagram, Facebook, and YouTube) without changing a thing. Essentially quadrupling the result of our content marketing efforts. To further improve efficiency, we typically produce them in batches of between 10 to 30 at a time.
For these types of videos, it is essential to provide value rather than self-promote. The idea is to make informational content that your target customers would be interested in and to build an audience solely consisting of people who might buy from you. Over time, these videos can also generate leads or sales on their own.
By no means are these the only three video types that would be useful to you. These are simply the most common types that I've found effective for our clients. Other examples include FAQ videos, meet the team/about us videos, recruitment videos, onboarding videos, sales videos, explainer videos, product videos etc. The most appropriate types of videos for your business are always going to come down to your specific needs and objectives. Here's our showreel as an example, which has a little bit of all of these video types in it:
---
The post three types of video marketing you should be using in 2023 appeared first on NZ Entrepreneur Magazine.

Go to Source of this post
Author Of this post: #nzentrepreneur
Title Of post: three types of video marketing you should be using in 2023
Author Link: {authorlink}