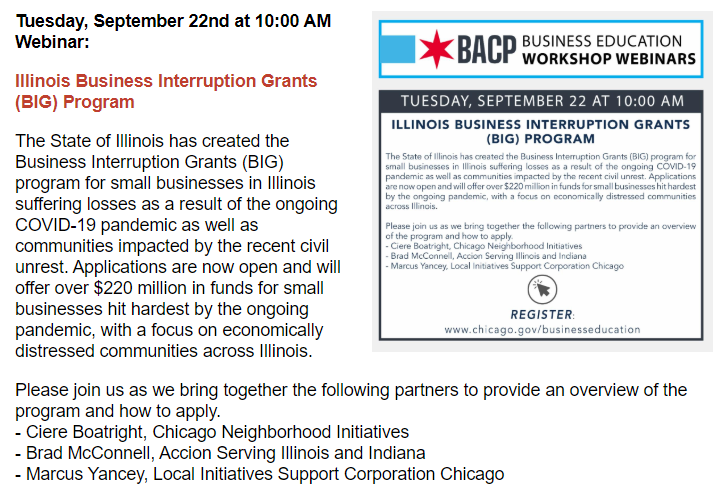 The State of Illinois has created the Business Interruption Grants (BIG) program for small businesses in Illinois suffering losses as a result of the ongoing COVID-19 pandemic, as well as communities impacted by the recent civil unrest. Applications for a second round of funding are now live. A total of $220 million will be made available for small businesses of all types in Illinois.
The Chicago BACP has put together a free webinar on September 22, 2020 that brings together the following partners to provide an overview of the program and how to apply.
– Ciere Boatright, Chicago Neighborhood Initiatives
– Brad McConnell, Accion Serving Illinois and Indiana
– Marcus Yancey, Local Initiatives Support Corporation Chicago
Register by visiting www.chicago.gov/businesseducation today.
The second wave of funds includes the following provisions to ensure a wide distribution of funds geographically and across business type:
Heavily Impacted Industries – $60 million for heavily distressed industries, such as movie theatres, performing arts venues, concert venues, indoor recreation, amusement parks, and more.
Disproportionately Impacted Areas – $70 million set aside for DIAs, defined by zip codes identified by the General Assembly for communities that are most economically distressed and vulnerable to COVID-19.
Downstate Communities– DCEO has committed to ensuring that at least half of all remaining funds, totaling more than $100 million, are reserved for businesses in downstate and rural communities of Illinois.
Priority Businesses– Apart from the $60 million for heavily impacted industries, applications from the following types of businesses will be prioritized for review for remaining funds:  businesses directly affected by regional mitigations implemented by the state or local governments, independently owned retail, tourism- and hospitality-related industries including accommodations, and more.
Agriculture – $5 million of the remainder of funds will be set aside for livestock production disruptions.
Grants and Loan Forgiveness for Illinois Small Business Emergency Loan recipients – As authorized by the General Assembly, DCEO will offer grants for businesses that have incurred eligible costs to offset loans received under the Illinois Small Business Emergency Loan program.
Businesses outside the categories listed above are also eligible to apply and receive funding under the program but may be reviewed later than priority businesses. All businesses will receive a decision on their grant application within four to six weeks of application submission. More information here —
https://www2.illinois.gov/dceo/SmallBizAssistance/Pages/C19DisadvantagedBusGrants.aspx
I am getting a lot of questions from recipients of Round 1 grants about what types of costs are considered eligible for this program. The Certification & Requirements pdf states the following.
ELIGIBLE COSTS
"The subrecipient will use the proceeds of the subaward supported by the Program exclusively for costs and losses incurred due to the business interruption or other adverse conditions caused by the Coronavirus Disease 2019 (COVID-19) pandemic. For purposes of this Program, costs incurred during a business interruption may be classified as a cost related to COVID-19. Grant proceeds may be used to reimburse costs and losses such as inventory, equipment (including Personal Protective Equipment and other supplies to promote health and safety), compensation (including salaries, wages, tips, paid leave, and group healthcare benefits), rent, technology to facilitate e-commerce, professional services procured (including the design and construction of environments necessary to promote physical and social distancing and cleaning and disinfecting services) and other costs of operation in accordance with the applicable administrative rules or the policy directives of the grantor that was incurred during the period that begins on March 1, 2020, and ends on December 30, 2020. All spending related to this program must be reimbursable by the Federal Coronavirus Relief Fund, as prescribed by 601(a) of the Social Security Act and added by section 5001 of the Coronavirus Aid, Relief, and Economic Security (CARES) Act including all subsequent federal guidance. Expenses that have been or will be reimbursed under any other federal program are not eligible for reimbursement through the proceeds of this subaward."
Please pass the word along about this grant to the neediest of the Illinois businesses you know.
---
If this or any other posts on the website were useful to you, and your financial situation permits it, please consider contributing to my tip jar. This allows me to continue to provide free accounting resources to small businesses who do not have the funds available to hire a CPA.